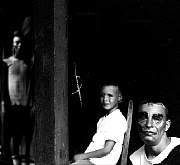 Ralph Eugene Meatyard, "Here-in-after, here-in-before"
(1963); gelatin silver print, approx. 6.5" x 7.25"


(Click on image to see more of Meatyard's work at George Eastman House)
"If you want to say something and have people listen then you have to wear a mask. If you want to be honest then you have to live a lie."
~
Banksy
,
Existencilism
(2002)
"Man is least himself when he talks in his own person. Give him a mask, and he will tell you the truth."
~
Oscar Wilde
, "The Critic as Artist" (1891)