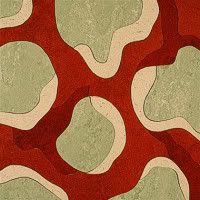 "Flatlands #54," by David Palmer
David Palmer,
Flatlands
(linoleums, 2002-2004):
"My materials are linoleum and vinyl, chosen for their tactile qualities, for their readymade textures, and because flooring material seems an appropriate metaphor for both the surface of the earth (which is itself becoming increasingly manmade) and the microscopic realm (our latest construction site)."
"Paint #18" (detail), by Brad Streeper
Brad Streeper:
"My painting process is intuitive, and involves unconventional manipulation of paint, glue, gesso and ink."
"Espresso," by Paule Dubois Dupuis
Paule Dubois Dupuis:
"My work investigates the nuances of passion through the use of textures often obtained by painting on plaster lying on wood. I like to use these unconventional materials to create abstract compositions that reference both body and nature."