(Recent photographs; click to see full-size image in new window)
What am I [wanting/trying] to [say/do] with my work?
Does it matter?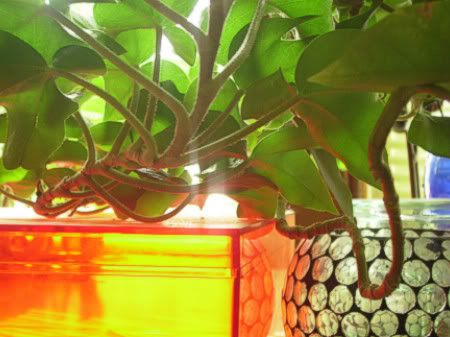 When it comes to the bricolage I post here, my intention is relatively clear to me, and (for lack of a better word) "automatic." I don't feel the need to hold in mind a clear statement of
What I'm Trying to Do
, because I've been working with text long enough to
know
both what I'm doing and how I'm doing it.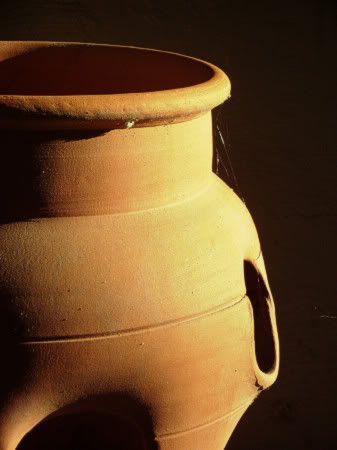 With the bricolage, I have that kind of vanity described by Rex Crockett in
this post from Art & Perception
:
"Sometimes when no one loves you, vanity is a wonderful thing. At times, it is even good to be self deluded. Seeing your own work as worthwhile, even great, when no one else does can be all you have. Vanity can get you through hard times. Vanity is useful. It is a survival tool."
I recognize that almost no one else "gets" it, but I'm vain (or deluded!) enough to be certain of its value.
In the case of photography, my intention is almost passive: I'm hardly trying to say/do anything at all. I just record what is visually interesting to me, without much creative decision-making. I don't use artificial lighting or filters, I don't set up arranged tableaux, and I use cameras that permit me only minimal control over aperture and exposure time.
For the most part, all I control is framing and composition. And I know enough about the traditional standards of composition to recognize when a particular shot is worthwhile, or when the resulting photograph is "good." My intention is more documentary than expressive or creative.
But when it comes to painting, I'm stumped -- often and enduringly. What am I trying to do?
I haven't internalized that sense of what I'm doing and how I'm doing it. I don't have that useful vanity to push me along without others' approval. And painting can never be as passively receptive as point-&-click photography. Even if it were that easy, I aspire to something more than documentary record-making.
For the past 18 months or so, I've been engaged with painting more as
process art
than anything else -- opening myself to the notions of a "creative journey," serendipitous effects, a sense of playfulness or experimentation with the materials. But today, looking over the completed work, the journey seems like a solipsistic dead-end, the serendipity feels more like folly, the playfulness indulgent. Even with those 2 or 3 works I like, I find myself asking: is
this
at all valid (or worthwhile or meaningful or relevant or even just beautiful)?
What am I trying to do? What am I wanting to say?
Does it matter?
In his blog On Painting
, Duane Keiser says that "... a painterly aesthetic develops when the way we like to move paint begins to mesh with our sense of what is beautiful." I like that sentiment, but as I look at yet another blank canvas this morning, I feel like I want something else or something more.