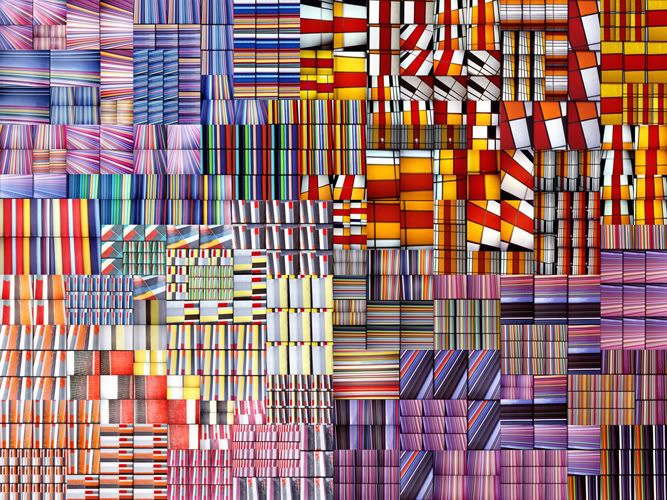 Sylvie Barco, "True Colors" (2007);
digital print mounted on aluminium, approx. 39" x 59"
Click on image to see larger version in a new window.
Lomoscope
"Sylvie Barco [a.k.a.
'Lily B.'
], a young, talented and creative photographer, is known for her crisp, high-definition landscapes and shorelines. Her latest work leads her to photograph urban spaces using
'lomo' cameras
which have the novel quality of multiplying the photographed subject, and to use the latest techniques to create colorful kaleidoscopic images. These meticulously constructed collections of images, these personal prisms, are the expression of an original and confident œuvre. Sylvie's photographic style pushes her to travel in order to reconstruct in these photo-mosaics the impression of the urban panorama which she observes and analyzes with a curious eye. She feels the city and looks for what it can offer her: shapes, colors or graphic elements which she will then put together in a rhythm that is harmonious or chaotic according to her inspiration."
Links:
Sylvie Barco - Photographe
(in French)
Sylvie Barco
at Artalk (an oddly translated English-language page)