From Lee Siegel's
"The Blush of the New"
(a review of Peter Gay's
Modernism: The Lure of Heresy from Baudelaire to Beckett and Beyond
), NYT Sunday Book Review, 12/30/07:
We have exhausted Romantic individualism, and we have twisted the uniquely individual, modernist escape from the self into "self-expression."


"99 Cent," chromogenic color print by Andreas Gursky (1999).
Expression is everywhere nowadays, but true art has grown indistinct and indefinable.


"Iraq Female Mujahadeen," by Scott Nelson, WPN (Baghdad, 2004)
We seem now to be living in a world where everyone has an artistic temperament -- emotive and touchy, cold and self-obsessed -- yet few people have the artistic gift.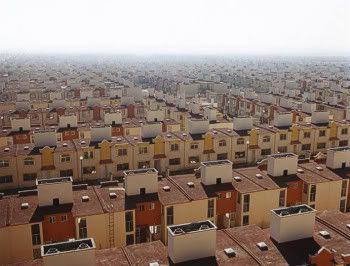 "Ecataepec," C-print by Scott Peterman (Mexico City, 2006)
We are all outsiders, and we are all living in our own truth.
"A US soldier swims in the south fork of the Euphrates River,
Ar Ramadi," by Joel Preston Smith; from Night of a Thousand
Stars and Other Portraits of Iraq