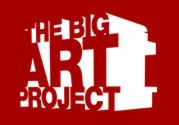 "Art asks difficult questions."
Can art help people reclaim pride in their area?
Can art kick-start tourism?
Can art unite a community?
Does [art] solve problems or create them?
Does art have to be good for you or your community?
What does that requirement do to the art?
Can art bridge contested spaces?
Can art commemorate and regenerate -- intelligently?
Can art look both ways: past and future?
Is this about nostalgia or a new identity?
~ "Talking point"
questions
regarding the seven sites selected by the UK's Channel 4 for
The Big Art Project
.