I love the idea, but the instructions crack me up:
"
Get Mud.
Find or make some mud. I mixed soil and water then beat it with a whisk. Make sure your mud is not watery. It should be about the same consistency as peanut butter."
~ Jesse Graves,
Mud Stencils
blog,
"How To Do It"
(
via
Just Seeds
)
O===O
Boldest works of art in recent history
(from
MakeFive
): "Every once in a while a new piece of art startles, moves, or makes us simply take notice. I always find it interesting to think of which pieces really break our every day and make us look."
Take a look at the current Top 5. You'll laugh, you'll cry. Or break your every day, anyway...
O===O
... But it does seem to support the contention of
Guardian Unlimited
art-blogger
Jonathan Jones
:
"Although a critic today might champion certain serious practitioners of art -- a Richard Serra, a Cy Twombly -- that kind of artist is losing out to art that is brighter, louder, closer in sensibility to TV. This decade has seen the end of high art, in that there is no longer any distinction between art and mass entertainment. Art follows the same rules as the fashion industry and has the same clients."
If I read him correctly, Jones regards this as a
good
thing. Wait till you get to the part where he effuses that Damien Hirst's work "crystallises the deepest human fears and longings with a grandeur and lucidity that eluded 20th-century artists."
Oy.
I need to find or make some mud. Surely Jones is overlooking 20th-century masters such as
Nudie Cohn
,
Robert Crumb
, and
Stanley Mouse
.
O===O
"[T]here are three classes of men -- lovers of wisdom, lovers of honour, lovers of gain."
~ Plato,
The Republic
O===O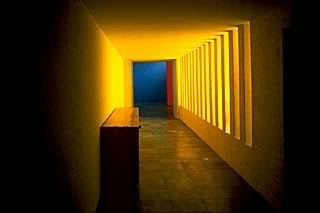 Luis Barragán's Gilardi House (Tacubaya, Mexico City); photo by
Armando Salas Portugal, © Barragán Foundation
"Art is made by the alone for the alone."
~
Luis Barragán
, as quoted by Robert Adams in
Why People Photograph
Even better with pickled shark!